Veterinary Care for Large Animals and Equines
Caring for Your Cattle in Belen, NM
For farms with small to large cattle herds, we understand the importance of having a local, experienced large animal medical center with the flexibility to perform a range of services on site or within our modern hospital. The ability to offer these high-quality large animal services, in addition to our companion pet care, to area farms and families is just another of the many ways we strive to fulfill our goal to meet all the needs of animal owners in Valencia County.
Dr. Sanchez was raised on his family's registered Santa Gertrudis cattle operation and has decades of practical experience and expertise in their care and management.
Our Services for Cattle Include:
Preventive Medicine
Vaccinations
Dairy Herd Management
Deworming
Nutrition
Reproduction and Breeding (including fertility testing, artificial insemination, early 28 day blood pregnancy testing and palpation with ultrasound)
C-sections
Castration
International Cattle Exporting
Brucellosis Testing
TB Testing
Trich Testing
Hoof Trims
Dr. Sanchez and our medical team can provide many services at your farm or ranch, although there are instances – for example when surgery or fluid therapy is required – where it is best that patients be at our hospital.
For more information, please call us at (505) 864-6001.
Caring for Your Equines in Belen, NM
Dr. Sanchez and his skilled veterinary team also provides a range of services to breeders, stables, racetracks and those who keep horses at home (commonly referred to as backyard horses). We see and have considerable experience treating a variety of equine breeds.
Services for equines can be delivered either at our hospital or during on site calls to our clients. The decision between treatment administered on site or at our animal hospital in Belen is dependent upon the health of the animal and the services being provided. It is our goal to always work in the best interest of your equine and in a manner that ensures the best service to our clients.
Equine Services Offered Include:
Wellness & Vaccinations: Our equine wellness programs are designed to provide you with confidence your horse is receiving the highest-quality preventive health care and a fundamental foundation for a long, healthy life. We recommend annual preventive care appointments, which include a physical examination, vaccinations and dentistry, as well as more frequent de-worming. We view annual examinations as an opportunity to establish a baseline for your horse's health as well as to detect problems before they become serious and expensive to treat.
Diagnosis and Treatment of Medical Conditions: Though we prefer to prevent illness as much as we possibly can, there simply is no guarantee a well-cared for horse will never face a illness or injury. Dr. Sanchez and the medical team at Yucca Veterinary Medical Center are able to diagnose and treat a wide range of medical conditions. These include (but are not limited to): Coggins testing for Equine Infectious Anemia, coughing, choke, respiratory infections, colic and weight loss.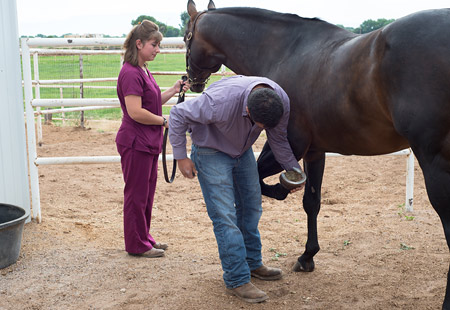 Equine Dentistry: Horses often require dentistry to keep their teeth and gums healthy and ensure they can eat properly and maintain good nutritional health. Dr. Sanchez and the team at Yucca Veterinary Medical Center also utilize the latest advances in equine dentistry technology to regularly perform teeth floating.
Reproductive Health: Breeding is essential for maintaining a herd, and it is an important endeavor for those seeking to give birth to the next great race, competition or show horse. Dr. Sanchez provides guidance on breeding and maintaining the health of the mare or dam during pregnancy and delivery. We also offer reproductive ultrasounds during important stages of pregnancy as well as artificial insemination to ensure the best chance of conception.
Equine Surgical Services: As with the preventive medical care we provide, we would much prefer to do all we can to prevent the need for surgery. However, there are times when surgery is in the best interest of your horse. Surgeries we perform include castrations, laceration repair and hernia repair.
Pre-Purchase Exams: We strongly recommend a thorough pre-purchase exam for any horse you are considering. We are happy to customize our examination to address your concerns and expectations. While a pre-purchase examination can't guarantee the future soundness or athletic ability of the horse, it can be invaluable in helping you with your final decision.
Equine Podiatry: Foot and hoof ailments are common problems for horses. We offer corrective shoeing for problems such as: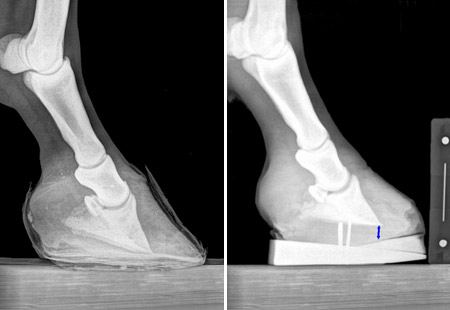 Navicular Syndrome
Club Feet
Soft Tissue Injuries
Pedal Osteitis
Angular Limb Deformities in Young Horses
We also offer medical treatment and management of serious hoof conditions, including:
Laminitis
Hoof/Coffin Bone Infections
Puncture Wounds
White Line Disease
Canker
For more information on the large animal veterinary services we offer for cattle and equines in Belen, please call our veterinary office at (505) 864-6001 today.