Newsletter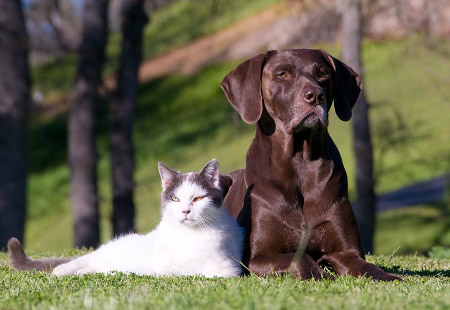 The veterinarians and staff at the Yucca Veterinary Medical Center are pleased to provide you with an online newsletter. This fun and fact-filled newsletter is updated on a regular basis.
Included in the newsletter are articles pertaining to pet care, information on our animal hospital, as well as news on the latest trends and discoveries in veterinary medicine.
Please enjoy the newsletter!
Current Newsletter Topics
February is National Pet Dental Health Month
Dental care is vital to your pet's health. If you've already established a dental care program for your pet, you're off to a great start. But if your pet hasn't received a dental exam from your veterinarian, it's time to get started. February is National Pet Dental Health Month, the perfect time to schedule a dental exam for your pet and develop a home dental care regimen for your best friend.
Why is dental care so important for your pet? Periodontal disease is the number one diagnosed problem in pets. By the age of two, more than 80 percent of dogs and 70 percent of cats have periodontal disease in one form or another. The buildup of plaque and tartar on your pet's teeth leads to bacterial infections that can enter the bloodstream and infect other parts of your pet's body. Periodontal disease has been linked to heart attacks, strokes, kidney disease, osteoporosis and other problems.
The good news is that periodontal disease is easily prevented. Regular dental cleanings and a home dental care regimen can eliminate the plaque and tartar that lead to gum disease and oral infections. During a dental cleaning, your veterinarian also performs a complete oral examination of your pet. This includes screening for oral cancer, broken teeth and cavities. Spotting these problems early makes them easier to treat and improves your pet's overall oral health.
Your pet's dental cleaning is more involved than the same process you go through at your dentist's office. Anesthesia is required to keep your pet still and comfortable during the procedure. Because of this, your pet undergoes a thorough physical examination before each dental cleaning. Laboratory blood tests, as well as other diagnostic procedures are also used to screen for potential problems and risks before anesthesia is administered. Using these results, your veterinarian develops a safe anesthetic protocol specifically for your pet.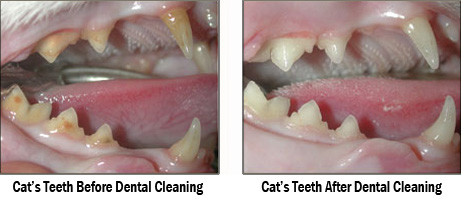 During a dental cleaning, tartar is removed from your pet's teeth with a hand scaler. Next, a periodontal probe is used to check for pockets under the gumline - where periodontal disease and bad breath start. An ultrasonic scaler is used to clean above the gumline and a curette is used to clean the teeth under the gumline and in the crevices. Finally, the teeth are polished and an anti-bacterial solution is applied to help delay future tartar build-up.
Dental care doesn't end in your veterinarian's office. Brushing your pet's teeth at home is an added level of protection against gum disease. In order to be most effective, brushing must be done at least three times a week; however, daily brushing is ideal. Brushing your pet's teeth can be supplemented with antiseptic rinses. Some pet foods and treats are also effective in preventing plaque and tartar buildup. However, there is no substitute for regular brushing and professional dental cleanings.
Call your veterinary hospital to schedule a dental examination and cleaning for your pet today. Your best friend will thank you!
Quiet! Solutions For Barking Dogs
The first five reasons for barking are rarely the cause of excessive or annoying barking. They are usually specific to certain situations and are short-lived. The sixth and seventh reasons are those most likely to be considered problem barking, and they are not unrelated. Barking for companionship can turn into barking for reward: The dog barks to get its owner's attention, the owner comes to the dog to tell it to be quiet, perhaps petting it or playing with it, before going away again. The dog is quiet while the owner is there, but has learned that barking will bring the owner back. Thus the system of barking and reward is established.
A solution, again, is to spend more time with your dog and have it near you rather than tied up somewhere separate from you. However, if your dog is separated from you and it begins to bark to get your attention, do not immediately go to the dog. It must learn that barking will not guarantee your presence. By spending more time with the dog at regular intervals not instigated by barking, your dog will feel more assured that it will get sufficient attention from you and will not have as much inclination to bark for companionship.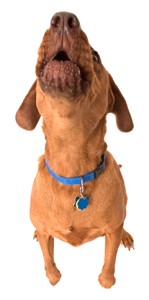 Teach Your Dog To Stop Barking By Understanding Prevention Steps
How do you teach a barking dog to distinguish between friends and strangers?
The solution is to show the dog that certain individuals like garbage collectors or the mailman are, indeed, friends. To accomplish this, the dog has to be introduced to these people and given an opportunity to get to know them. While this is not always practical, it is nonetheless a potential solution. As you restrain your dog, stop delivery people and have a short conversation with them, letting them meet the dog for a brief period. Repeat and lengthen the process over the next few weeks. Eventually, your dog should accept these individuals and all should be well until your regular mailman is sick and another person takes his place.
What do you do with a dog that barks at guests in your house?
One solution is to take the dog to another room and give it something to do. Or, if the guest comes to your home often and you don't want to have to lock up the dog every time, work to gradually introduce one to the other. Have the guest get on his knees, pet the dog, offer it a treat, and more or less become part of the family. Let your dog establish the speed at which this relationship develops: Don't force it or your dog may become alarmed by a pushy guest.
How do you deal with a dog that barks at the phone?
This is simply a case of a dog that has been rewarded for barking at a ringing phone. When the dog barks, someone eventually answers the phone and it stops ringing. To stop your dog from doing this, have a friend call and let the phone ring until the dog loses interest. Continue over a period of days, and in time, the dog will learn that barking at the phone accomplishes nothing.
Finally, what do you do with the dog that barks while you are away from home?
There are several possible solutions. One is to act as if you are leaving, then stand outside the door until the dog barks. When it does, return and scold verbally. Another is to get your dog a companion—but you might end up with two barkers! A third is to use a sound-activated tape recorder. When the dog barks, the sound switch turns on the tape recorder for a minute. The tape plays your voice scolding the dog. Some systems can repeat as many as 45 times while you are away.
The best way to reduce your dog's barking is to pay attention to the reasons for the barking. If you can satisfy the dog's needs, barking will automatically be reduced. By the same token, learned barking can be extremely persistent. Internal rewards can cause the cycle to go on for years.
The best solution to barking is prevention, so be aware of the possibilities and work to stop problem barking before it starts.
Health Benefits of Pet Ownership for the Elderly
The link between good health and having pets in the home has been well established by multiple studies and is noted on the U.S. Centers for Disease Control (CDC) website, among other places. Additionally, these health benefits are not just limited to families with children.
The CDC and numerous studies conducted by a wide range of organizations have shown multiple physical and mental health benefits for the elderly who keep companion pets. For example, PAWSitive Interaction, a nonprofit group dedicated to better understanding the positive impact of the human/animal bond, produced a white paper titled Pets and The Aging: Science Supports the Human/Animal Bond. The paper brings together experts in this field as well as scientific research to more fully explain the benefits to the elderly of pet ownership.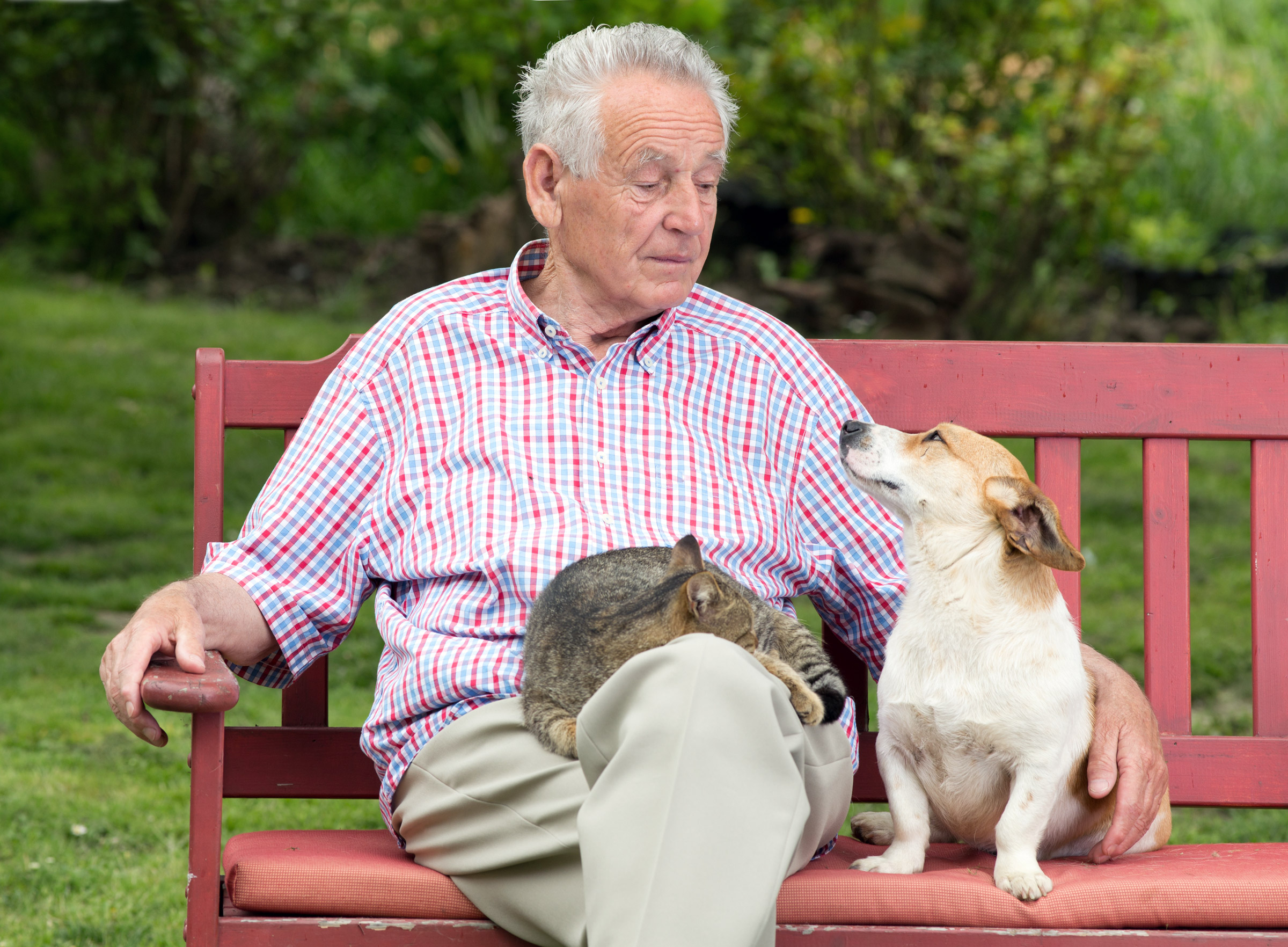 Health benefits include:
• Lower Blood Pressure – Studies have shown that when pet ownership is combined with medication, blood pressure is more easily controlled than in populations that use medication alone.
• Reduced Depression – Simply spending time with a pet dramatically increased production of hormones in the body that regulate well-being and happiness. Production of hormones that are related to stress and anxiety decreased as dramatically.
• Decreased Loneliness – It is common for the elderly to be and feel isolated from the rest of the world. However, having a pet and taking care of it provide reasons for a person to become more engaged with life. They get out for walks more and come into contact with a wider range of people. This in turn acts as a social catalyst between peers and others. A pet also is a companion and provides a sense of responsibility and well-being.
• Increased Heart Attack Survival – One study showed that heart attack survivors who have a pet are four times more likely to live another year or longer.
• Improved Alzheimer's – A Purdue University study found that the presence of aquarium fish has a calming effect and increased appetites at meal time.
Other studies have shown:
Improved Personal Care – Pets act as something of a personal alarm clock to remind the person to care for him or herself in terms of hygiene as well as reminders when to eat (e.g. feed the pet at the same time as dinner).
Regular Exercise – Taking care of a pet, especially a dog that needs to be walked or an animal that responds to play can help seniors get out for regular exercise through walking. This also provides an opportunity to interact with other pet owners as well as neighbors and friends.
Touch – People respond positively to and need regular touch. A pet such as a cat curled up in a lap or dog lying nearby can be very reassuring and relaxing to an older person as well as provide a sense of security.
We could go on, but the bottom line is that a companion pet—whether a bird, cat, dog and so on—can be as much a source of good health and vitality for the elderly as it would provide love and companionship.